Radio Galaxy FM from Finland
The V8-engine was steaming when we cruised our vehicle to a small garden in the suburbs of Jyväskylä. It was Saturday 16th May 1992 and it was 2135 local time.
Radio Galaxy FM-broadcast equipments and operator DJ Mega Hertsi city of Jyväskylä in summer 1992.

We got off the car and met 2 young men, whose age was around 20-25 years. After a short negotiation we climbed to another car, which was already full of radioequipment. The driver told us his name was Mega Hertsi. It was time to go.
In two vehicles we drove to the dark and cold springnight along small roads in the woods. We moved higher and higher to the hills which surround our hometown Jyväskylä in the Central-Finland. After many kilometres driving the cars stopped to a place near the top of one hill east of Jyväskylä. On out left side there were no trees and we could see the distant lights of Jyväskylä citycenter in the otherwise dark night. We were on the place.
The operators started lifting gear out of the car. A homemade 2- element quadi was soon assembled to a tree nearby. It was ejected towards the citylights. Due to the cold weather and possible rain the transmitting equipment was built to the bench of the car.
The FM-transmitter was a PLL-crystal-oscillator transmitter manufactured in UK by Veronica FM. There is 3 transmitters of this kind in Finland. This one boosts out 15 watts of power to the exact frequency 96 MHz. Other PLL-crystal-oscillator transmitters (by Veronica FM) in Finland are used by Radio Wega in Kouvola (35 watts) and KISS FM in Jyväskylä (30 watts).
On the car there was an extra carbattery to provide 12 volts for the transmitter. Siemens "walkmans" did provide the modulation from a cassettetape. SWR:s of the quadiantenna was checked with a Kaise SK- 2200-meter. The coaxialcable to the antenna and other cables were fixed and the station were ready to transmit at 2230 local time.
A little bit before 2300 local time DJ Mega Hertsi took contact to the guards with a small radiotelephone. The transmittingsite was protected by friends as guards in case police or radioinspectors would try to raid the station. And of cource the surrounding forests did provide a good chance to escape in case we wouldn't get a warning in good time. There were only 2 operators on the site. And we, the editors of PC.
Exactly at 2300 local time power was connected to the transmitter. Carradio came alive at 96 MHz and the music by Madonna took over the airwawes with DJ Saigon presenting the show this time. There was a wide smile on the operators' faces. "It's always so fantastic to transmit", said DJ Mega. Yes it is. Radio Galaxy was on the air.
History
Radio Galaxy has worked many years to reach this point. The mainoperator DJ Mega got interested in radio in 1984 as a DX-listener. Later he got interested in transmitters, too, and start using Citizen Band-equipment. DJ Mega found free radio in 1988, when he listened to Right-Wing Radio on the air (95,9 MHz FM in Stereo, 300 watts ERP). RWR was raided in spring 1988, but free radio was kept alive in Jyväskylä by KISS FM (95,9 MHz FM stereo).
In 1989 DJ Mega decided to try some kind of FM-transmitting by himself. He built many small power (less than 1 watt) FM-transmitters and later started building a 8-watt transmitter. 1991 was very active year in building, but it proved to be almost impossible to get the 8- watt driver to work properly. The transmitter was built again 3 times, but the harmonics and other problems seemed to be impossible to win.
In autumn 1991 DJ Mega heard that it would be possible to order cheap and good "factory-made" FM-transmitters from UK. In the end of 1991 a transmitter with ordinary oscillator was ordered from Veronica FM. In the beginning of 1992 the new transmitter did arrive, but -surprise surprise- it was equipped with a PLL-crystal-oscillator! Even better so. This one should even meet the specs of local radio transmitters in Finland. Same kind of transmitters all really used by local radios elsewhere in Europe, for example in Estonia (Viimsi Raadio 100,0 MHz in Tallinn).
Since January 1992 Galaxy has been on the air on 96 MHz at Friday or Saturday nights at 2300 LT. Galaxy doesn't want too much publicity, althought it even had a possibility to appear on national TV. It's the station's policy to keep low profile and not to "wake up" police and radioinspectors.
Jyväskylä is a very familiar place for radioinspectors of THK (=Telehallintokeskus, same as FCC in USA or DTI in UK). In this hometown of Matti Nykänen (the hilljumper) there has been free radio activity without interruptions since 1984. Anyway, Galaxy is an independent station and the operators of RWR or KISS FM does NOT work on Galaxy. New people are rising to keep the fight for free radio alive and kicking. In Jyväskylä the traditions are very important. That's the reason why Galaxy uses the same frequency as the other stations did use before.
The programs of Galaxy remind us very much of the programs RWR and KISS FM used to transmit. One reason is DJ Saigon, who also did produce shows for RWR and KISS FM before. Galaxy mostly plays musicshows for young people. Shows include disco, rock and pop from Finland and abroad. Played tunes are mostly from 80's and 90's, but also older music is played occasionally. Music does not have to be TOP-40 stuff. Galaxy uses very much echo-effects and jingles. That's a tradition in Jyväskylä, too...
The station has received very good feed-back from the public. People seem to like the musicchoices and especially they are happy to have a free radio in town. Some people doesn't like the echo, they say it's impossible to understand what the DJ says. DJ Saigon did give a comment: It's not important to know what I'm saying, echo is one element of show. And it's beautiful.

Power off
At the same time we were talking about the days gone by, the 45- minutes long show did reach the last song. Of cource it would be nice to keep the show going on 24 hours a day, but the fear of the THK is too strong. On the tape DJ Saigon says the last wishes and the "walkmen's" autostop says "click". We take the cables off the carbattery and 96 MHz is empty and silent again. At least hundred hands in the citycenter push a cassette onto their carstereos and hope that Radio Galaxy would be on the air again next weekend.
Pocketlamps give light when we pack the equipment back to the cars. Antenna is ripped off the tree. We start the cars and roll off the forest towards the civilication. The guards tell us that there were no problems. The fieldstrength has been good also in the citycenter.
Galaxy does not have regular transmissions due to the securityreasons. Transmissions take place after irregular times from different locations and always mobile. For the listeners this means that they don't know if Galaxy will be on the air on any specific day or not. Also the fieldstrength on a specific area varies, because the transmissionsite is not the same every time.
Let's have a beer
After a successful transmission it's good to have a beer or two. And what would be a better place to have one, than a terrace on the new walking district in Jyväskylä. Even if it's a cold night. DJ Mega likes to talk, so I'll let him speak and so I can drink without interruptions...
Our main team is small. It's quite easy to find guards, but it's much harder to find operators to the main site. Now we are negotiating about co-operation with another FM-station, Radio Milliwatti. We will join our forces and produce jointprograms and operate the transmissions together. Galaxy does not have own address. We can't use the Wuppertal-box, as there is a station with the same name in Germany. But you can write to us via Radio Milliwatti (Wuppertal box). Oh yes, we are always interested to take more people to work for the station. If you are interested, contact us.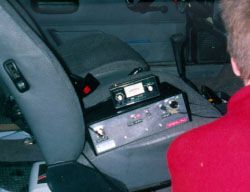 Radio Galaxys FM-broadcast equipments in frontseat of the car in city of Jyväskylä in summer 1992. Live broadcast is in progress frequence 95,9 MHz, stereo. There is operator DJ Mega Hertsi in this picture also.
It's incrediple feeling when a transmission succeeds, plans come true and you get positive feed-back from the listeners. Of cource you can't win every time, everybody have bad days too. Now it's easy to operate, as we have a very good transmitter. Before all our sparetime went to the building of own transmitters. Now we can relax and use the time for producing shows, as we don't need to open the transmitterbox at all.
We have the same motives to operate a station as other stations and operators. It's nice to have fun and this IS fun. But of cource the most important thing is the liberation of Finnish radio. Everybody should have a possibility to start their own station. We need more local radios. Radiostations should have different formats and different groups (musically, politically, etc.) should have own stations. Did you know that there's over 1900 unused local radio channels allocated for Finland?
The biggest problem in free radio activity is that it's illegal. You don't get used to it. There's always some kind of stress and fear when you are transmitting in the woods. If something goes wrong. Police or THK strikes. But it should not keep you away from pirateactivity. We need more free radios to all wawelengths and all areas.
Galaxy has not applied for a legal local radio licence. We wouldn't get it, so why bother? In fact I will not work on radio for my profession. If some legal station would offer me a job, I would't take it. I would't leavy Galaxy. Or maybe it the case that there would be new operators who would continue after I'm gone.
The difference between free radio and local radio is the program style. Our style is more free. We don't kiss advertisers or politicians ass. The political climate in Finland is more free than some years ago. Local radios are not so dull and censoriced as they used to be. That's why free radios have to fight harder and do better programs.
People listen to us because we are different. And there's some excitement in being illegal. It's exciting for the listeners to listen to us, because they know that we can be raided and gone in any minute. Listeners and ordinary people are on our side. We don't cause harm to anyone. People don't think we are some criminals. I don't think I'm a criminal, althought I could get heavy fines and one year in prison if they get me.
DJ Mega drinks the rest of the beer and walks to the night. We eat some kebab before we let our V8 to ride us home. I save the frequency 96 Mhz to a free memorychannel on my carstereo. I have to remember to listen to 96 Mhz next weekend. Maybe Galaxy's on the air. Madonna sings in the night.